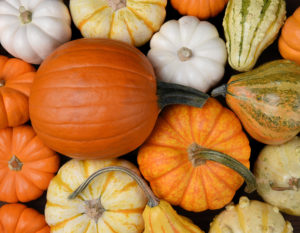 It's back! The Pumpkin Spice Latte has officially returned to your favorite neighborhood coffee shop, officially marking the coming autumn season. From pumpkin lattes to beers, bread, donuts and more, pumpkin-flavored and spiced foods and drinks are a ubiquitous feature of the Thanksgiving holiday season. However, when it comes to your dental health, not all pumpkin foods are created equal. In today's blog post, a dentist in Fort Worth will help you navigate through the pumpkin-filled fall months while keeping your beautiful smile intact.
Is Pumpkin Good for My Teeth?
Before we delve into the seemingly endless variety of pumpkin-flavored or pumpkin-spiced treats that appear in stores and at restaurants each autumn, let's start by looking at the pumpkin itself. Here a few dental health benefits of the favorite fall squash:
Healing Properties – The zinc found in pumpkin can help heal bleeding gums or damaged tissues inside your mouth
Increase Saliva – Saliva is important for washing away bacteria from the mouth. One cup of pumpkin contains twice the daily recommended amount of Vitamin A, which improves saliva flow
Fiber – Pumpkin is loaded with dietary fiber, which also stimulates saliva flow
Boosts Immune System – The Vitamin C found in pumpkin can help boost your immune system
Strong Enamel – Pumpkin's magnesium and calcium can strengthen your tooth enamel
Everything in Moderation – Even Pumpkin Spice Lattes
If pumpkin is so healthy, what about the uber-famous Pumpkin Spice Latte?  Unfortunately, the answer is a resounding "NO". Pumpkin Spice Lattes have an estimated 50 grams of sugar – much more than the recommended daily amount for men and nearly double the amount recommended for women by the American Heart Association. Tooth decay is caused by bacteria that feed on sugars from food and drinks, so you should try your best to moderate the amount of "PSLs" you drink this fall.
On the food end of the spectrum, pumpkin pie remains a classic autumn dessert. While a single slice of pumpkin pie can contain a little more than 300 calories, it may actually be less unhealthy compared to other, more sugary desserts on the table. To cut out some of the calories from a slice of pumpkin pie, avoid eating the buttery crust.
Tips for Healthy Pumpkin Eating
The easiest way to ensure the pumpkin treat or meal that you eat is healthy is to prepare it in your own kitchen. Here are a few easy ways to add pumpkin to your meals:
Bake a pumpkin in the oven, then add just a touch of cinnamon and a little bit of butter

Incorporate pumpkin chunks into a roasted vegetable mix

Pumpkin seeds can also be a topping for your salad or on a baked chicken

Make a 

pumpkin puree pasta sauce for a twist on an Italian dinner

Simply roast pumpkin seeds to turn them into a healthy snack you can munch on throughout the day
No harvest season is complete without at least some pumpkin being consumed. By following the healthy cooking tips above and avoiding sugary pumpkin treats, you can enjoy this fall favorite and protect your dental health this Thanksgiving.  
About the Author
A proud graduate of Texas Christian University and the Baylor College of Dentistry, Dr. Gary Pointer has been providing contemporary, comfortable dental care to patients in the Fort Worth area since 1979. Patients interested in contacting a dental professional voted among the "Top Dentists in Fort Worth" can visit Dr. Pointer's website or call the office at 817-737-2531.