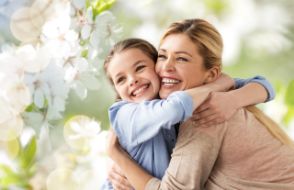 With the warmer air, longer days, and budding trees, there's just something about springtime that makes you want to tackle your to-do list! And, although the phrase "spring cleaning" is typically used in reference to house cleaning, there's no reason it can't apply to your smile, too. This is a great time of year to schedule one of your bi-annual checkups and cleanings with a dentist in Fort Worth. These visits are incredibly important to your oral health and also benefit you in many other ways as well. Learn more below!
Why Is Your Oral Health So Important?
A healthy smile not only looks great, but also provides these additional benefits:
You're able to comfortably eat all your favorite foods.
Good oral health is important for self-confidence and affects your personal and professional life.
Your teeth give your face its structure and shape, maintaining a youthful appearance. When the teeth are lost, the facial structure begins to "fall."
By maintaining your oral health, you minimize the amount of time you spend in the dental chair.
Many studies have shown that your gums are crucial to your overall health. In fact, gum disease increases your risk of heart disease, stroke, Alzheimer's, pregnancy complications, and even some cancers.
What Can Happen When You Skip Checkups?
In dentistry, prevention is the name of the game. Checkups and cleanings are one of the most important things you can do to prevent the following problems:
Dental emergencies – Seeing a dentist regularly is the best way to catch problems small so you can avoid painful toothaches and other emergency situations.
Missed oral cancer screenings – Early detection is key, so both a dentist and hygienist always perform an oral cancer screening at every checkup.
Gum disease – In addition to affecting your overall health, gum disease is also the leading cause of tooth loss. Your checkups include one annual gum examination to make sure problems are caught and treated early on. Also, regular cleanings go a long way towards preventing gum disease altogether.
Oral hygiene tips – Your brushing and flossing habits are incredibly important, so hygienists provide tips and tricks as needed so you can be as effective as possible.
Fluoride treatments – Fluoride is a mineral that strengthens your enamel to prevent cavities, and professional treatments are great for both kids and adults.
Although you get just two annual checkups and cleanings, they help you have a healthy smile the entire year. And springtime is the perfect time to schedule these visits for the whole family!
About the Author
Dr. Gary N. Pointer is an award-winning family dentist in Fort Worth with 40 years of experience. In that time, he's seen that patients who get regular checkups need less dental work in the long-term, so he always encourages everyone to get regular preventive care. If you have any questions about your oral health or would like to schedule a cleaning, he can be contacted via his website.